Are you looking for a frozen potstickers in air fryer recipe? Well look no further! We tell you everything you need to know from the time and temperature to tips for getting the perfect crisp on your frozen gyozas in the air fryer.
Frozen potstickers (or dumplings or gyoza as they are interchangeably called) are something we always have in our freezer.
They are the perfect appetizer in my opinion or can be paired with our delicious broccoli and rice to create a quick and tasty main meal.
And our new favorite way to cook frozen potstickers is in the air fryer. But before we get onto the instructions here are some of the questions we had when we started air frying frozen gyozas.
FAQS about air frying frozen potstickers
What are potstickers?
It may surprise you to learn that potsticker is a uniquely American term that is used to refer to Chinese dumplings which are usually filled with minced meat, shellfish, or even vegetables.
Gyozas are very similar to Potstickers but tend to refer to dumplings of Japanese origin.
And dumplings and dim sim are other terms that seem to be used interchangeably. However, the questions and recipes in this post should work whether you purchase potstickers, dumplings, or gyoza.
Is it safe to air fry frozen potstickers?
Yes, it is completely safe to air fry frozen potstickers provided you cook them well and for long enough. Always check the temperature of food from the air fryer before serving.
Are frozen gyozas good in air fryer?
Air fried frozen gyozas have fast become a favorite in our house because of their hands-off cooking method.
However, it is important to remember to brush the potstickers with oil before you air fry them. Although most of our frozen appetizer air fryer recipes don't require extra oil, potstickers are the exception to the general rule.
If you do not oil gyozas when air frying you will find that the potstickers dry out very quickly and become unpleasant to eat.
However a simple brush of oil air frying frozen potstickers results in beautiful crunchy potstickers.
What is the best way to cook frozen potstickers?
There are several ways in which you can cook frozen potstickers. These are:
in the microwave
in a pan
in an air fryer.
If you want the dumplings to be less crispy and more steamed then you really need to cook them in the microwave. However, if you would like a crunchier exterior then I think air frying potstickers is the best method.
What is the best brand of potstickers to air fry?
When it comes to brand of potstickers, we actually haven't found a brand that doesn't air fry well. Therefore just go ahead with whatever is your preferred brand.
However we have found Trader Joe's Pork Gyoza, Taipei Chicken Potstickers, and Ling Ling Potstickers to be the best in the USA. While in the UK you can't beat Itsu Gyoza.
Note: this recipe and the photographs in this post show chicken gyozas however it can be used for pork and vegetable potstickers too. It is just important you check your potstickers are thoroughly cooked before eating as different size potstickers and different air fryers will have slightly different cooks.
Do you need to thaw frozen potstickers before air fryer?
One of the things that make this recipe really easy is that you don't need to worry about thawing your frozen potstickers before air frying. You just need to pop them into your air fryer (my basket can fit 12 dumplings at a time) and turn them to the right temperature and time and off you go!
Does this work for air frying homemade frozen potstickers?
You can absolutely air fry homemade potstickers however you will need to adjust the cook time depending on the size of your potsticker.
What to Serve with Potstickers
Depending on whether you want to serve your potstickers as an appetizer or an entree will really affect the best things to serve with your dumplings.
However, for me, potstickers are never complete without a dipping sauce. Our favorite dipping sauces to serve with gyozas are:
Sweet Chilli Sauce
Soy Sauce
Pickled Ginger
You could also make an appetizer platter by pairing these with some vegetable egg rolls too.
Potstickers are also really easy to incorporate into some entrees too with our favorites being this super easy potsticker story fry and even easier potsticker soup!
Storage
Once potstickers have been cooked in the air fryer I recommend consuming them immediately as after a day in the fridge they can go a little soggy.
Frozen potstickers certainly can not be refrozen after cooking.
What You'll Need
Frozen Potstickers (Brand of your choosing)
Oil (for brushing)
An Air Fryer
Instructions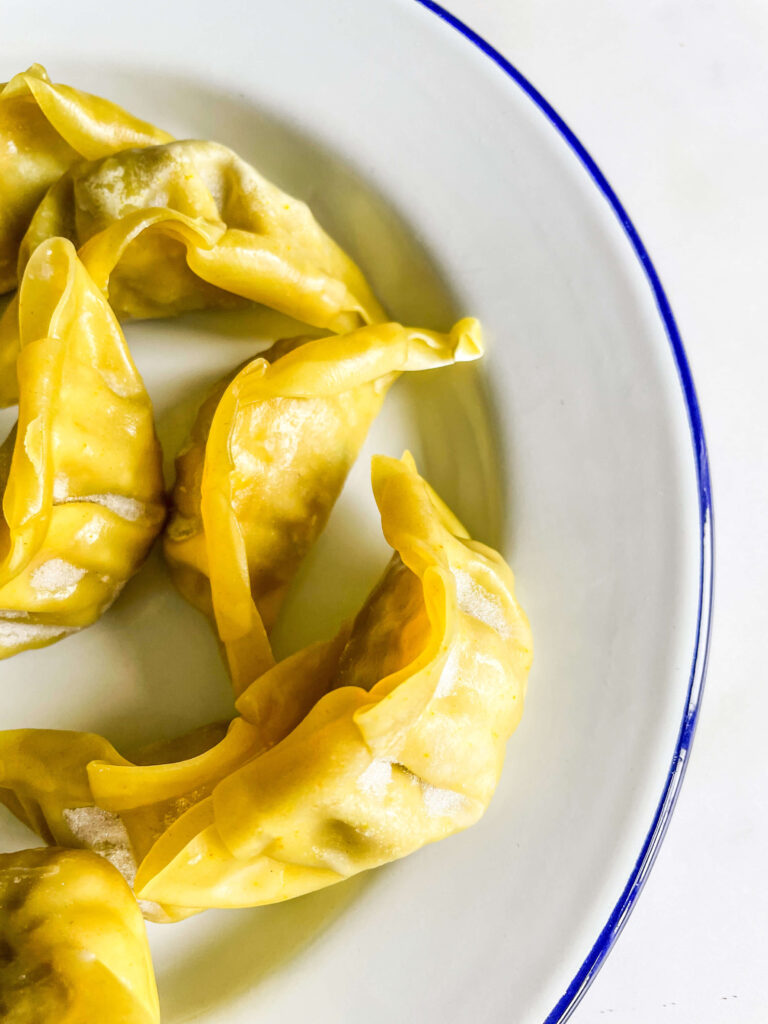 Cooking frozen potstickers in the air fryer is super easy. All you have to do is place the required amount into the air fryer basket. In my air fryer, I can fit 12 comfortably without overcrowding the basket.
Remember to brush your dumplings with oil before cooking to ensure they go crispy when air fried instead of dried out.
Set the temperature on your air fryer to 380°F/193°C and cook for 6 minutes.
At the 6-minute mark check on your dumplings to ensure they do not burn. Put back in the air fryer and cook for a further 2-5 minutes depending on your air fryer and brand of dumpling.
In my air fryer, it took an additional 3 minutes to cook 12 dumplings for the inside to be piping hot and thoroughly cooked while also maintaining a golden brown and crispy exterior.
How to cook frozen potstickers in the air fryer recipe
Yield: 2
Frozen Potsticker in Air Fryer Recipe
This frozen potsticker in air fryer recipe will ensure golden brown and crispy dumplings everytime.
Ingredients
1 x pack of frozen gyozas
Oil - for brushing
Instructions
Lightly brush frozen potstickers with oil before placing into air fryer.
Set airfryer to 380°F/193°C and cook for 6 minutes
At the 6 minute mark check to see how brown and cooked your dumplings are.
Cook for a further 2-5 minutes depending on the dunplings you are using.
Notes
Don't forget to brush your potstickers with oil. Skipping this step will result in dry potstickers instead of crispy golden brown ones.
Do no overcrowd your air fryer basket. An overcrowded basket will result in uneven cooking.
If you have to cook your dumplings in batches you may need to reduce time for subsequent batches as your air fryer will be preheated.
Times are a guideline and you should always check is thoroughly cooked before serving.
More Great Frozen Foods Cooked in the Air Fryer
As I said above, we love our air fryer, so be sure to check out some of our other frozen food air fryer recipes
Have you air fried frozen potstickers? Tell us any tips you have in the comment below and be sure to tag us on Instagram or Facebook to show us what you made!