Are you wondering how to cook frozen potato waffles in air fryers? In this guide we tell you exact instructions for air frying frozen potato waffles that will have you never putting them in the over again.
Frozen potato waffles are a staple in the our house. They are a nice alternative to fries and chips and are so versatile that you can serve them with anything from chicken to fish or even for breakfast!
But the best thing about them for me is that they cook in 8 minutes which makes them perfect for after school dinners!
But before we get onto the instructions for air frying potato waffles here are some of the questions we had when we started air frying frozen potato waffle.
FAQS about air frying frozen potato waffles
Is it safe to air fry frozen potato waffles?
Yes, it is absolutely safe to air fry potato waffles.
Are potato waffles good in air fryer?
We actually prefer potato waffles that have been cooked in the air fryer instead of the oven. The reason for this is that they are quicker to cook and go crispy on the outside and fluffy on the inside.
What to Serve with Frozen Potato Waffles
As we said above, potato waffles are super versatile. We have plenty of serving suggestions for potato here. But the classic has to be to serve them with chicken nuggets, fish fingers, the condiment of your choice or just have them on their own!.
Storage
Once frozen potato waffles have been cooked in the air fryer they should be consumed immediately and not be reheated or refrozen.
What You'll Need
Potato Waffles
An Air Fryer
Instructions
Cooking frozen potato waffles in the air fryer is super easy.
Take the required number of potato waffles out of the packet and pop them in the air fryer.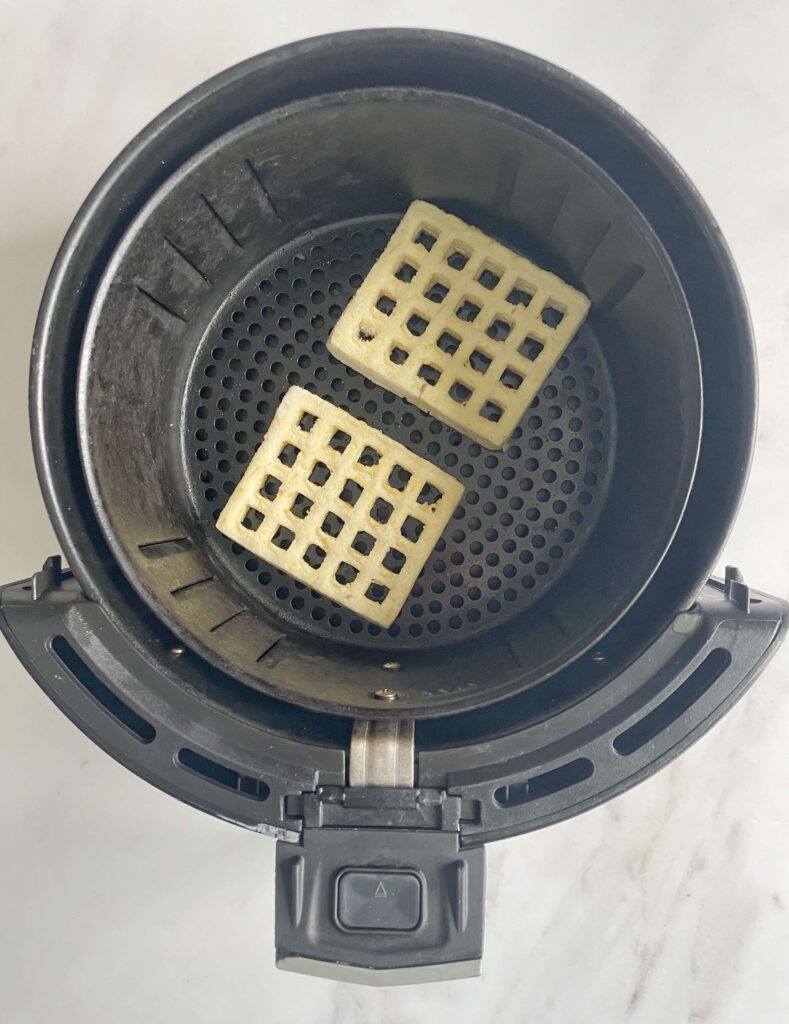 Depending on the size of your air fryer basket will depend on how many potato waffles you can cook at once. Smaller air fryers will normally fit two in the basket and larger normally will hold 4.
It is really important to not stack the waffles in the air fryer basket as this will prevent them from cooking through fully and will not get a crisp and even finish.
Also don't be tempted to oil the basket when cooking frozen potato waffles. Store bought potato waffles already have oil in them so you will find that they become extra greasy and lose crisp if you put additional oil in.
Set the air fryer to 350°F/180°C and cook for 8 minutes.
Tips for Making this Recipe
Links on some posts are affiliate links and as an Amazon Associate, I earn from qualifying purchases.
Cooking Tips – For best results make sure you don't stack the waffles in the basket. And don't be tempted to oil the basket as this will lead to greasy waffles.
Cooking Time – if you have to cook your waffles in batches, remember that the basket will already be hot and therefore cooking time may need to be reduced by a minute.
How to cook frozen potato waffles air fryer recipe
Yield: 2
How to Cook Frozen Potato Waffles in Air Fryer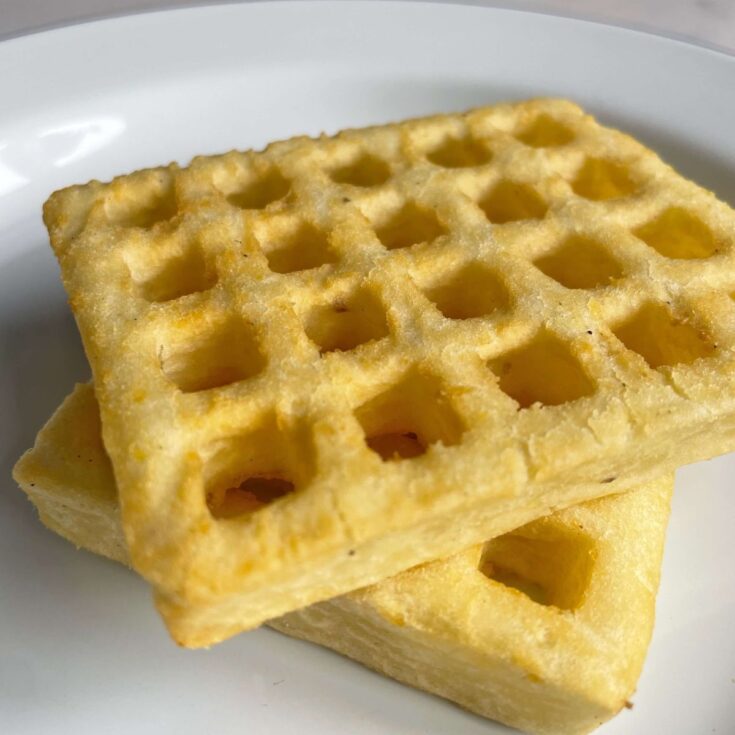 Want to know how to cook frozen potato waffles in air fryers? This guide will give you everything you need to know to make perfect and crispy waffles.
Instructions
Place desired amount of potato waffles in air fryer basket.
Air fry for 8 minutes on 350°F/180°C.
Notes
Do no add oil into basket. Store bought waffles are pre oiled.
Do not overfill the basket or stack waffles. This will result in improper and uneven cooking.
More Great Recipes from the air fryer
Want to know some of our other favorite air fryer recipes? Then check out this post:
Have you air fried frozen chicken nuggets? Tell us any tips you have in the comment below!