This frozen pea guacamole or as we like to call it, mockamole, is a healthy alternative to avocado guacamole that is healthy, budget friendly, eco friendly and delicious to boot!
Guacamole is absolutely one of my favorite foods in the world and I always have avocados in the house both in the fridge and in the freezer.
However this frozen pea guacamole is a delicious alternative that is perfect for summer time.
Why make Mockamole (frozen pea guacamole)
We all know how delicious guacamole is so why would you want to make this mockamole? Well actually there are a few really good reasons:
Budget Friendly – avocados are delicious but they are expensive. A bag of frozen peas by contrast are budget friendly and you can get far more servings from 1 bag of frozen peas compared to 1 avocado.
Eco Friendly – while tasty, there is a significant environment impact of growing avocados commercially. For instance it takes an astonishing amount of water to produce 1 single avocado (over 80 gallons in fact). The environmental impact of peas by comparison is much lower
Healthy – although avocados are full of healthy fats, if you are a special diet, sweet pea guacamole may be better for your requirements.
Ingredients
This simple frozen pea guacamole has just a handful of ingredients. They are:
frozen peas
onion – (we used red onions for color however white onions or shallots also work).
lime juice
cherry tomatoes – diced, roma tomatoes can also be used instead of cherry tomatoes.
jalapenos – we used pickled jalapenos but fresh can work too.
cilantro (optional) – I love coriander but I know this is a love or hate it ingredient so this is an optional addition.
See the recipe card for quantities.
Instructions
Cook the peas.
Add cooked frozen peas and lime juice into a blender and pulse until smooth.
Dice the onion, tomato and jalapeno pepper into small pieces and roughly chop the cilantro.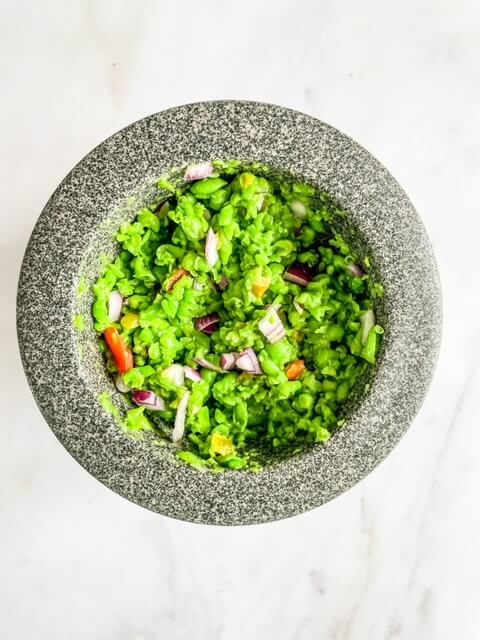 Mix the pea and lime mixture with the onions, tomatos and jalapeno peppers in a dish.
Serve
More Appetiser Inspiration
Want other appetiser inspiration then check out these posts:
What to Serve with Frozen Green Pea Guacamole
Wondering what to serve with this green pea guacamole? This can be easily served as an appetizer or as a dip with breakfast burritos or other Mexican inspired mains.
But some of our favorite things to serve with this are:
Storage
Frozen pea guacamole can be stored in an airtight container in the refrigerator for 2 days.
These ingredients don't stand up well to freezing and should not be done.
Tips for Making this Recipe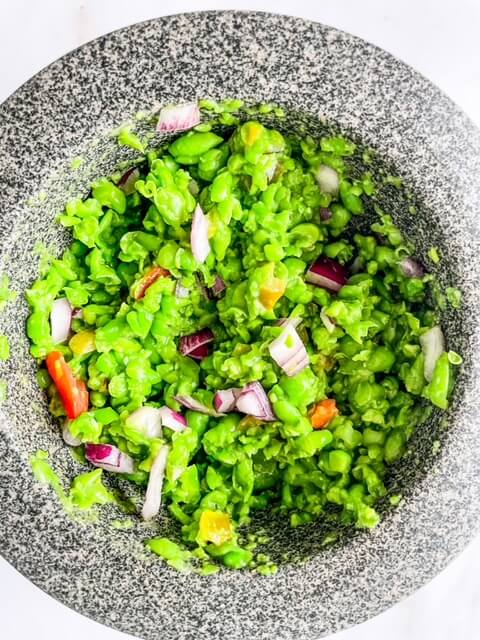 Links on some posts are affiliate links and as an Amazon Associate, I earn from qualifying purchases.
Pea Consistency – if you are making a smaller amount of frozen pea guacamole then you may find it difficult to get the correct consistency of the peas by using a blender alone. In these instances you can add the pea and lime mixture into a mortar and pestle to get a better texture.

Frozen Peas – you may find that other online recipes for mockamole say that you can run frozen peas under water to thaw and eliminate the cooking step. However frozen vegetables are not like frozen fruit and should not be eaten raw due to the risk of listeria. Quickly cooking the peas before making the mockamole will reduce this risk and will not impact the texture or flavor of this frozen pea guacamole.
Substitutions and Variations
Here are some optional changes you can make to this recipe.
Spicy Mockamole – to make a spicier version of this mockamole add extra jalapenos for a spicer dip.
Avocado and Pea Guacamole – if you want to add a creamier texture or want to up the veggie count in this dup then you can add diced avocado into the blender with sweet peas and lime juice to make an avocado and pea guac.
Smoky Mockamole – add chipotle into the mix for a smokier version.
Fruity Mockamole – garnish with pomegranate seeds on top for a fruity and vibrant coloured guac.
FAQs About this Mockamole
Can I use fresh peas instead of frozen?
Yes you can of course use fresh peas instead of frozen. You just need to make sure you boil them until tender so you get the right consistency in the blender.
Can I make this recipe without a blender?
You can absolutely make this without a blender. We recommend using a mortar and pestle to blitz the pea and lime mixture. However if you don't have this you could also use a potato masher or a simple fork.
What is a good substitute for avocado in guacamole?
If you don't have avocado in the fridge or are short on peas you could also use broad beans as a substitute for the avocado.
If you try this recipe, let us know! Connect with us on Instagram and share your photos or leave us a rating.
Yield: 2
Frozen Pea Guacamole aka Mockamole
This delicious frozen pea guacamole, aka mockamole, is a great healthy, eco and budget friendly alternative to avocado guacamole.
Ingredients
1 and 1/2 cups of frozen peas.
1/4 cup of red onion (diced).
1/4 cup of cherry tomatoes (diced)
1/4 cup of pickled jalapenos (diced).
Coriander - to taste.
Instructions
Cook the peas.
Put the peas and lime juice in blender and pulse until smooth.
Dice the remaining ingredients (tomatoes, jalapenos, and onion.
Add into the smooth pea and lime mixture.
Roughly chop the cilantro and add to the mixtures.
Serve
Notes
If you don't have a blender or are making a small amount of mockamole it may be easier to use a mortar and pestle to get the right consistency.
Nutrition Information:
Yield:
2
Serving Size:
1
Amount Per Serving:
Calories:

52
Total Fat:

0g
Saturated Fat:

0g
Trans Fat:

0g
Unsaturated Fat:

0g
Cholesterol:

0mg
Sodium:

282mg
Carbohydrates:

10g
Fiber:

3g
Sugar:

4g
Protein:

3g