Here's how to air fry frozen taquitos so they are crispy and delicious! It only takes a few minutes and results in some tasty taquitos.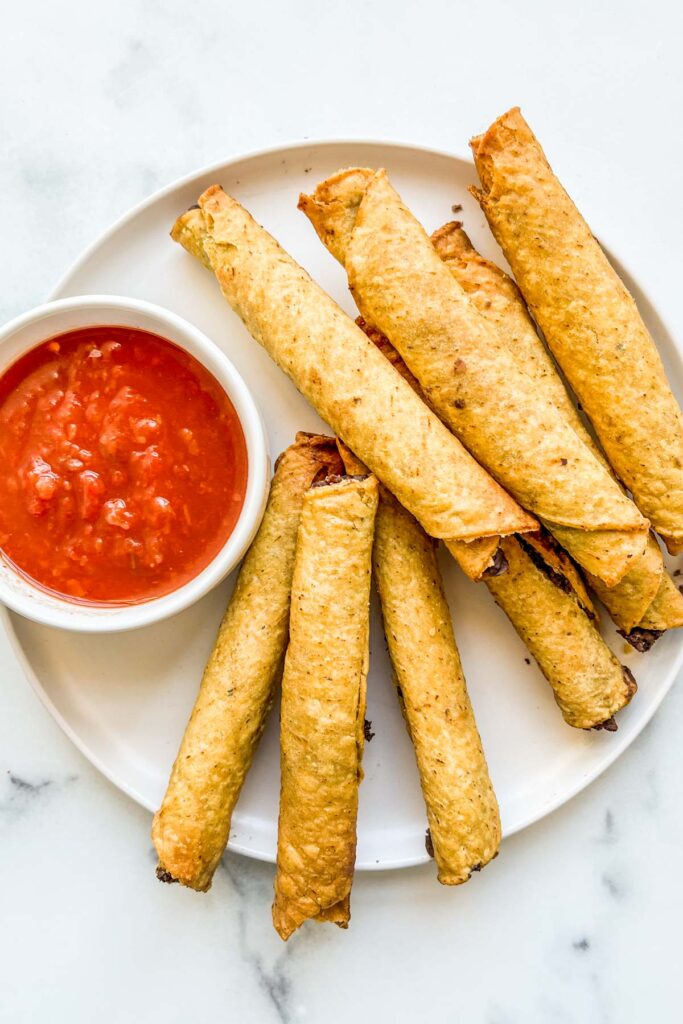 FAQs About Frozen Taquitos
Is it safe to air fry taquitos?
Yes, it is completely safe to air fry frozen taquitos
We normally choose to eat black bean taquitos or taquitos without raw meat. If you are eating taquitos that were not cooked before freezing, please be sure to check package instructions or look up the minimum safe temperature for the meat you will be cooking.
Are frozen taquitos good in air fryer?
Yes, air-frying taquitos is probably the best way of cooking them! Air frying is faster than a regular oven and you'll get much crispier taquitos than if you microwaved them.
What is the best brand of frozen taquitos to air fry?
Most frozen taquitos will be delicious in the air fryer! Trader Joe's black bean and cheese taquitos, José Olés chicken and cheese or beef and cheese, or El Monterey's crunchy southwest chicken taquitos all work great in the air fryer.
Do you need to thaw frozen taquitos before air frying?
One of the things that make this recipe really easy is that you don't need to worry about thawing your taquitos before air frying. You just need to pop them into your air fryer and start cooking.
Does this work for air-frying frozen homemade taquitos?
You can absolutely air-fry homemade taquitos! However, due to the precooking process and the oil content in store-bought frozen taquitos, you may need additional cooking time and you will need to spray the taquitos with cooking spray or oil before air frying.
What to Serve with Taquitos
Our favorite dipping sauces to serve with taquitos are:
Salsa
Guacamole
Sour Cream
Queso
Chipotle Mayo
Storage
Once you've cooked your taquitos, we recommend eating them immediately. If you need to save them in the refrigerator, they will keep for up to 3 days when stored in an airtight container.
You should not refreeze the taquitos after you've cooked them.
What You'll Need
Frozen Taquitos
An Air Fryer
Instructions
Cooking frozen taquito in the air fryer is super easy.
Place your taquitos in a single layer in the basket of your air fryer. Leave some space in between them, to ensure peak crispiness.
Don't be tempted to oil the basket when cooking frozen taquitos. Store-bought taquitos already have oil in them so you will find that they become extra greasy and lose crispiness if you put in additional oil.
Place the basket in the air fryer and cook at 420°F (215°C) for 8 to 10 minutes or until they are golden and crispy.
Note: cooking time may vary depending on the size of your taquitos and if your air fryer is already hot.
More Frozen Foods Cooked in the Air Fryer
As I said above, we love our air fryer, so be sure to check out some of our other frozen food air fryer recipes
Yield: 2 servings
How to Air Fry Frozen Taquitos
Here's how to cook frozen taquitos in the air fryer so they are crispy and delicious!
Ingredients
1 package frozen taquitos
Instructions
Place frozen taquitos into the air fryer basket in a single layer. Leave space in between each taquito.
Set air fryer to 420°F (215°C) and air fry for 8 minutes for crispy or 10 minutes for extra crispy.
Remove the air fried taquitos from the basket and serve with optional salsa or other toppings.
Have you air-fried frozen taquitos? If you try this recipe be sure to share it on social media and tag us @freezerfoodieblog