Are you looking for the best frozen cherry overnight oats recipe? Well, look no further. This recipe has only 5 ingredients making it super easy to make and with the addition of frozen cherries instead of fresh makes it a more budget friendly way of making overnight oats.
Any type of overnight oats are always delicious however if you are thinking of using frozen fruit in overnight oats you need to adjust the standard recipes to allow for the added water content.
But fear not, our recipe takes this into account and makes the perfect consistency overnight oats every time.
Why use frozen cherry in overnight oats?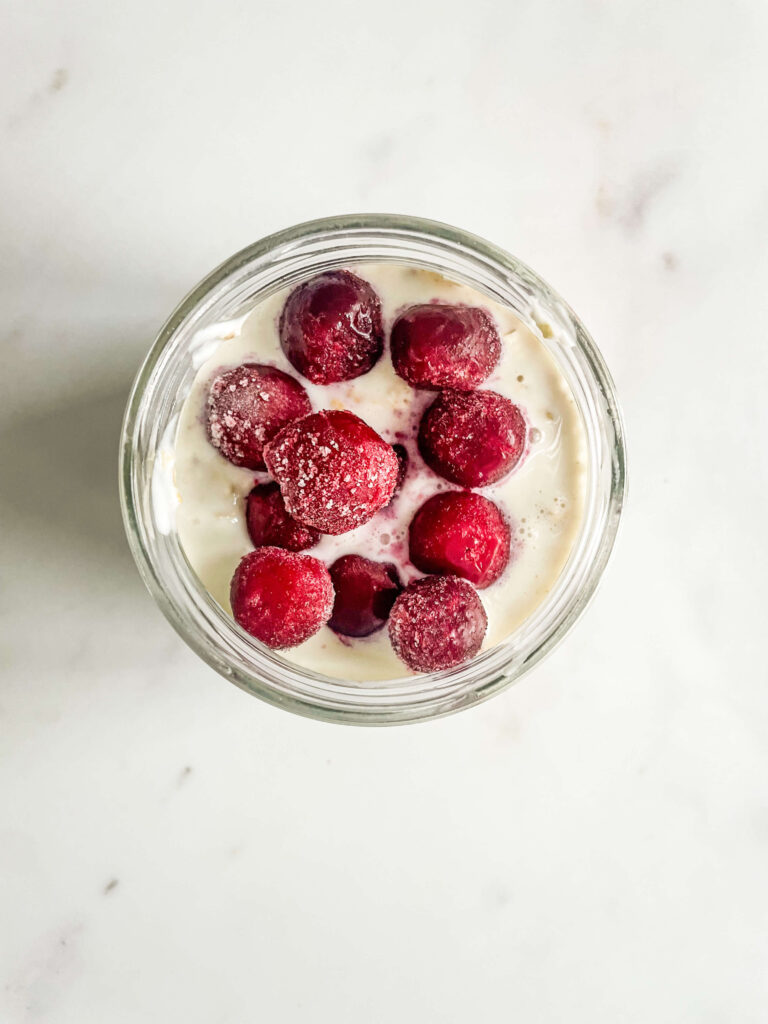 But why should you use cherry mango in overnight oats? Well for one thing it is cheaper than buying and using fresh fruit in overnight oats and is still just as nutritious.
Also the season for cherries is short, by using frozen cherries instead of fresh you are guaranteed access to juicy and succulent cherries all year long, not just when they are in season.
What are overnight oats?
Overnight oats are basically just your regular breakfast oats that have been soaked overnight in liquid such as milk or vegan milk alternatives such as almond milk or oat milk.
By leaving the oats to soak overnight in the liquid, they become soft while still keeping all of their nutritional value while the liquid becomes thicker and creamier in the process.
However the water content of frozen oats will also go into this soaking mixture and affect consistency.
Tip for this recipe: For this recipe we recommend using almond milk to give you overnight oats a cherry Bakewell flavor.
How to use Frozen Cherries in Overnight Oats?
If you are using frozen cherries in overnight oats, then you will need to reduce the liquid content slightly compared to overnight oats with fresh fruit. This is because more fruit juice and water will be released into the mixture with frozen cherries versus fresh cherries.
Alternatively, you can add some chia seeds into the mixture which will help thicken the overnight oats.
Frozen Cherry Overnight Oats Ingredients
Rolled Oats
Frozen cherries
Milk – you can use milk of any variety. We used almond milk as we wanted to make a cherry Bakewell overnight oat.
Yogurt – I used natural Greek Yogurt but vegan alternatives can be used to make dairy free versions.
Maple Syrup – for sweetness
Almond Flakes – optional
See the recipe card for quantities.
Instructions for Making Overnight Oats with Frozen Cherries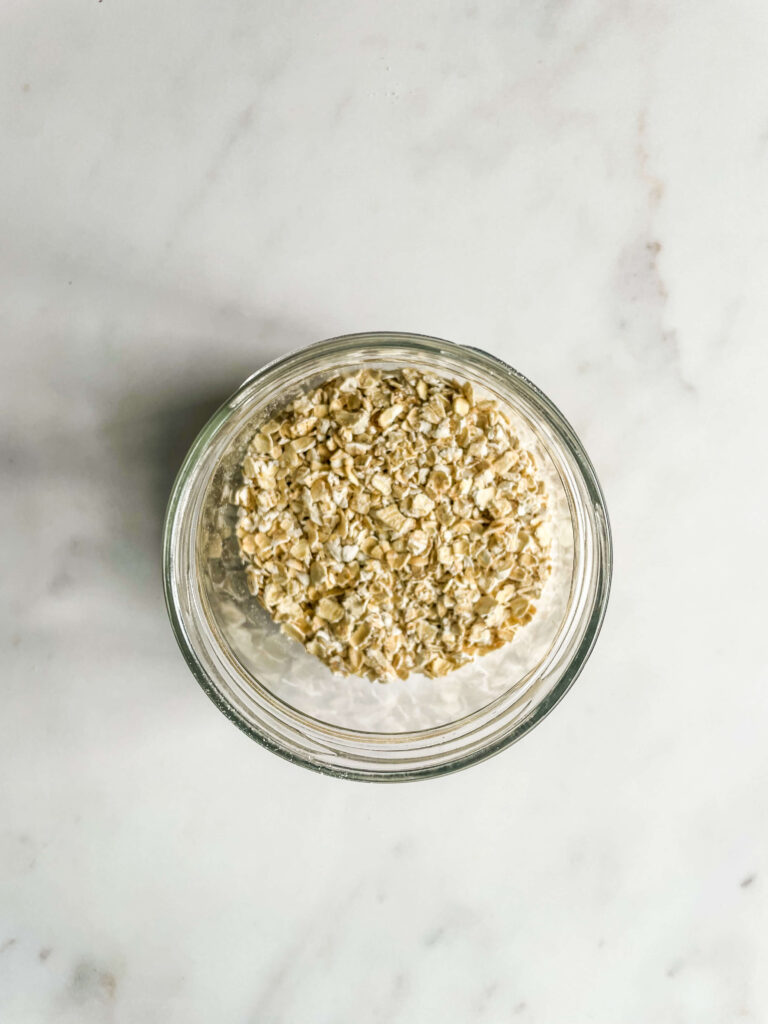 Add in the milk and stir the mixture.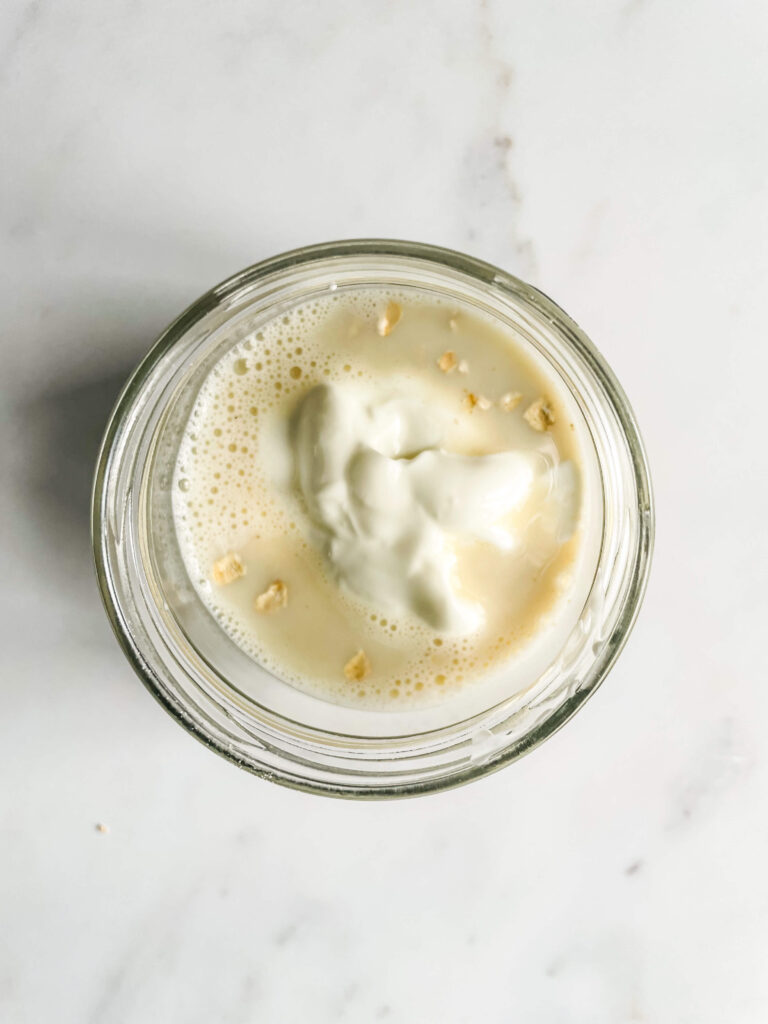 Stir in the yogurt and maple syrup.
Once fully stirred, add the frozen cherries to the top of the mixture.
Place lid on glass jar and leave in fridge overnight.
In the morning stir all the ingredients together in the jar for a final time.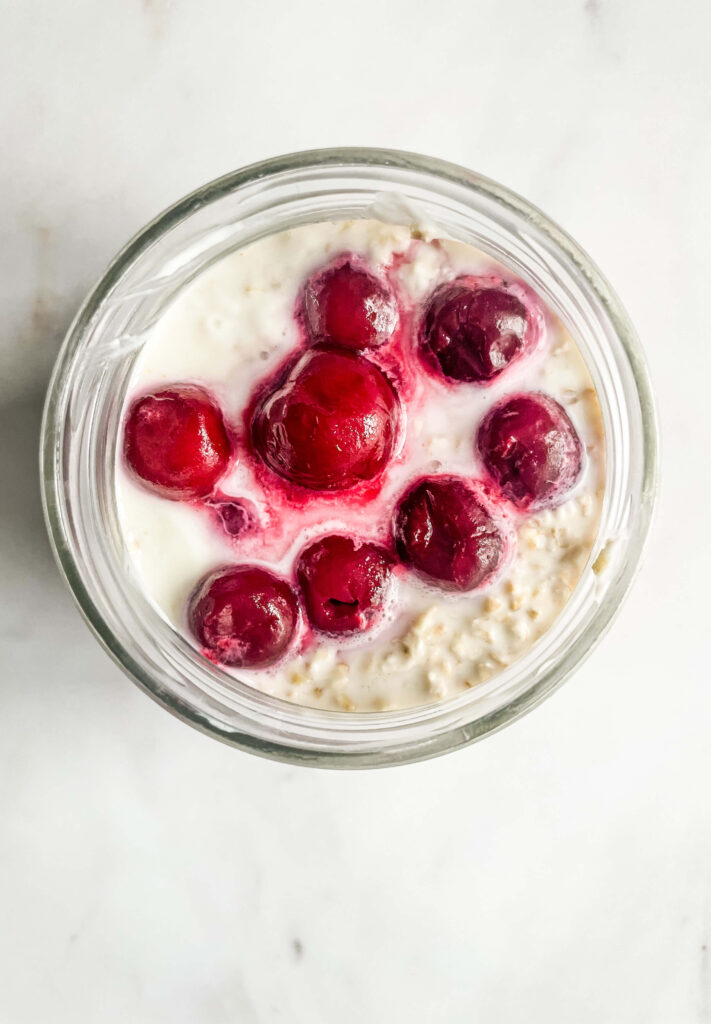 Top with almond flakes and enjoy.
More Sweet Breakfast Recipes
If you've got a sweet tooth, try some of our other favorite breakfast recipes.
Substitutions & Variations
Want to try something different? Here are some options.
Yogurt – you can use flavored yogurt, vanilla yogurt or even Greek Yogurt with honey. However flavored yogurts are sweeter so you may need to reduce or eliminate the maple syrup from this recipe. We recommend trying before adding and then adding maple syrup slowly to taste.
Vegan – instead of dairy yogurt and milk use vegan alternatives such as almond, coconut or oat to make a delicious vegan alternative.
Chocolate – Cherries and chocolate are a classic combination. For those with a sweet tooth you could top with chocolate spread or chocolate chips
Berries – if frozen cherries isn't your thing you could add in frozen mangos instead.
Fresh Cherries – Fresh fruit are equally tasty to frozen and can be substituted into this recipe with a tablespoon more milk to get the right consistency. We recommend removing the stone and chopping the cherries before adding to the top of your overnight oat mixture.
You could also add in any of the below ingredients for a flavor variation depending on your palette.
Coconut Flakes
Honey
Nuts
Storage
Store in fridge and consume within 3 days for optimal texture.
If you leave the oats for the full 3 days you may find you need to add an extra tablespoon of yogurt into the mixture to get the right consistency.
These ingredients don't stand up well to re-freezing.
Tips for Making this Recipe
Links on some posts are affiliate links and as an Amazon Associate, I earn from qualifying purchases.
We recommend using almond milk for this recipe as we think almond and cherry are an amazing combination however you can use the milk of your choosing.
Best Jars for Overnight Oats
8 oz glass mason jars are recommended for this recipe. However any glass container will work.
Alternatively you could also use tupperware to store in the fridge and portion out in the morning however I never think this looks quite as nice as serving in the glass jar.
If you try this recipe, let us know! Connect with us on Instagram and share your photos or leave us a rating.
Yield: 1
Frozen Cherry Overnight Oats
These delicious frozen cherry overnight oats are a delicious, healthy and easy to make breakfast idea.
Total Time
12 hours
5 minutes
Ingredients
1/2 cup rolled oats
1/2 milk, of your choice - we used semi-skimmed.
1/2 cup of Greek yogurt
1 tsp of maple syrup
1/4 cup frozen cherries
1 tbsp of almond flakes (optional)
Instructions
1. Add oats into the glass jar or Tupperware of your choice.

2. Add milk and thoroughly stir mixture.

3. Add yogurt and maple syrup and stir well.

4. Once fully stirred, add the frozen cherries and leave on top of mixture.

5. Place lid on jar and leave overnight in refrigerator.

6. Remove oats from the fridge and stir. Top with almond flakes and stir.
Nutrition Information:
Yield:
1
Serving Size:
1
Amount Per Serving:
Calories:

368
Total Fat:

10g
Saturated Fat:

3g
Trans Fat:

0g
Unsaturated Fat:

7g
Cholesterol:

15mg
Sodium:

145mg
Carbohydrates:

48g
Fiber:

6g
Sugar:

18g
Protein:

23g