Do you have leftovers and wondering can you freeze angel delight? The good news is that you can indeed freeze angel delight.
In this guide we will tell you exactly how to freeze angel delight, how to defrost angel delight and some recipe inspiration for using your leftover frozen angel delight.
Why Freeze Angel Delight?
The truth is that when in packet angel delight has a really long shelf life. However once you have made up your angel delight it has to be used quickly.
Therefore you should think about freezing angel delight when you have made too much to prolong its shelf life and prevent waste.
So now you know why you should consider freezing your leftover angel delight, how do you go about it?
Can you freeze angel delight?
Yes you can freeze angel delight. There is no point freezing unopened angel delight as this will have a long shelf life.
However once made up freezing angel delight means you can save some for a later date as it can be stored for up to three months in the freezer.
How long can you freeze angel delight for?
Angel delight can be kept in the freezer for up to 3 months.
How to Freeze Angel Delight?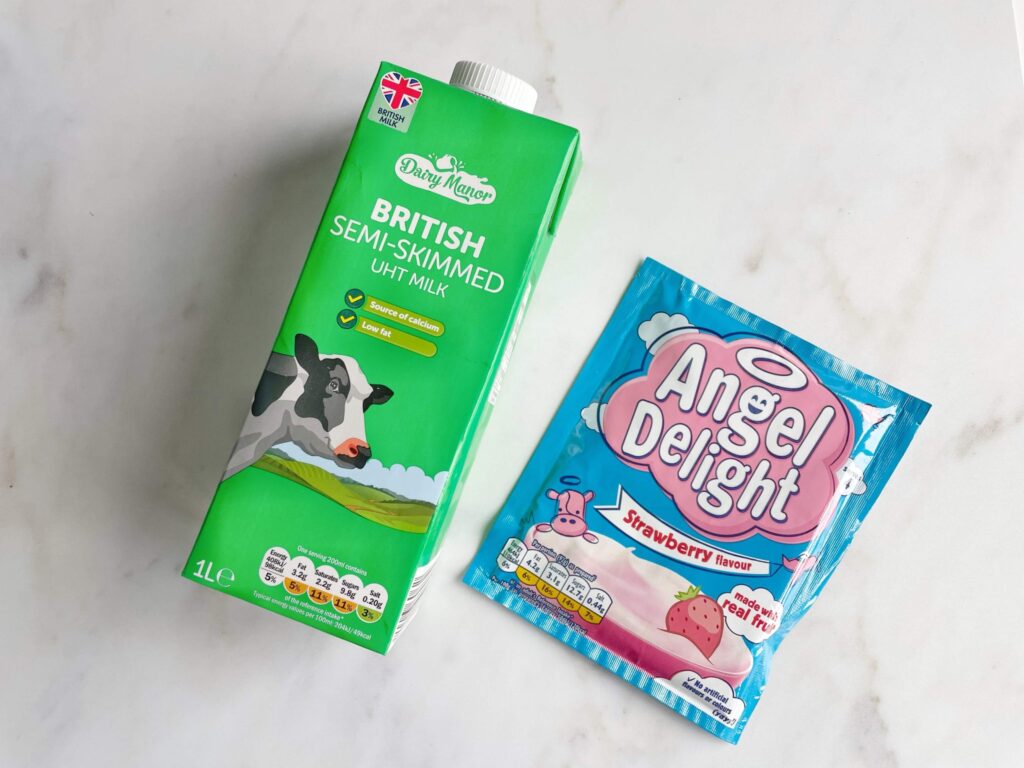 So how do you freeze angel delight.
Firstly you should make up the angel delight as your instructions dictate. Usually this is done by combining the packet mixture and the milk of your choosing.
Once it is made up, but any additional portions of angel delight into freezer friendly pots.
It is really important to use an air tight container to store your angel delight in the freezer as this will prevent freezer burn and contamination.
Once you have poured out your angel delight put it in the freezer and leave overnight for the best results.
How to Freeze Angel Delight Lollies
While the above is a great way to store leftover angel delight that you want to thaw and use at a later date, another thing that is very popular in my house is angel delight lollies which are a great frozen summer treat.
If you want to make angel delight lollies all you need to do is pop your leftover angel delight mixture into lolly moulds and pop them into the freezer.
For a fancier and healthier lollies you can add some fresh or frozen fruit into your mixture.
For full angel delight lolly recipes check out this post.
Whichever method of freezing angel delight you choose be sure to put the date on the container so you know when you have to use it by.
Can you use Angel Delight as ice cream?
I wouldn't call frozen angel delight ice cream per se however it makes a great ice cream alternative.
If you want to freeze angel delight as ice cream simply make the angel delight as instructed on the side of your carton, mix and pop into a large container such as an ice cream carton, and leave in the freezer overnight.
For our angel delight ice cream check out this post.
How long does Angel Delight take to freeze?
Angel Delight can freeze in around 4 hours in the freezer. However we recommend leaving it overnight for the best results.
How to Defrost Angel Delight
So now you know how to freeze angel delight, how do you defrost angel delight?
Well if you have made lollies out of your leftovers, which is one of our favorite things to do then there is no need to defrost them. Simply pop them out of your lolly mould and voila!
However if you want to use the angel delight as a dessert then you will need to defrost it.
To defrost angel delight simply take your angel delight out of the freezer and pop it in the fridge overnight. Angel delight has a mousse like consistency and texture and if you want to use it like a mousse you will need to defrost it slowly.
Overnight in the fridge is the optimum method.
Does Angel Delight Freeze Well?
The truth is that as with freezing any mousse like product, the texture and consistency will deteriorate on freezing.
The same is true with Angel Delight. You will find that while still tasty, the texture of the Angel Delight will be changed upon freezing and will not be as light and airy as the original dessert. It will taste good but the texture will certainly be changed.
However we find angel delight lollies to be a great way to use leftovers as you consume the product frozen and the taste and texture will be most pleasant.
Can you refreeze angel delight?
No you can not refreeze angel delight. You should not keep refreezing food as per food safety guidelines and in relation to angel delight in particular the texture and consistency of the product will deteriorate on every freeze.
How to Freeze Angel Delight Recipe
Yield: 4 to 6 servings
Can you freeze angel delight?
Here's how to freeze angel delight with milk.
Total Time
12 hours
5 minutes
Ingredients
1 x Packet of Angel Delight
Milk (as required)
Air Tight Storage Freezer Friendly Container
Instructions
Mix up angel delight mixture and milk as stipulated on carton.
Once you reach a smooth consistency pour the mixture into an air tight freezer friendly container.
Leave overnight to freeze.
Date and label container.
Nutrition Information:
Yield:
4
Serving Size:
1
Amount Per Serving:
Calories:

31
Total Fat:

1g
Saturated Fat:

1g
Trans Fat:

0g
Unsaturated Fat:

0g
Cholesterol:

5mg
Sodium:

29mg
Carbohydrates:

3g
Fiber:

0g
Sugar:

3g
Protein:

2g
Related Freezer Guides
Are you looking for more information on freezing dairy and puddings? Then be sure to check out our below guides:
can you freeze strawberry mousse
can you freeze chocolate mousse